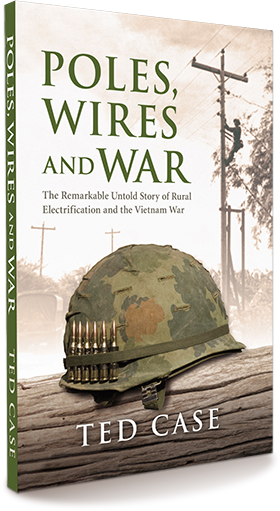 Poles, Wires and War
The Remarkable Untold Story of Rural Electrification and the Vietnam War
In spring 1965, President Lyndon Baines Johnson agonized over the deteriorating situation in South Vietnam. After authorizing a furious bombing campaign to halt a communist takeover, Johnson also faced the grim prospect of committing thousands of American troops. Yearning for a solution that would win the villagers' "hearts and minds" by offering them a better life, Johnson embraced an innovative plan by his close friend and kindred spirit, Clyde T. Ellis, to bring light to the villages of South Vietnam, just as LBJ had pioneered rural electrification in his beloved Texas Hill Country.
Ted Case's Poles, Wires and War is a dramatic story of an increasingly desperate president who, as he stepped deeper in the quagmire in South Vietnam, counted on electricity to stem the tide of communism in Southeast Asia. It is also a gripping, untold story of an elite team of rural electrification specialists on a near impossible mission. Under pressure from LBJ, the team battles turf-conscious bureaucrats, the president's own advisers and a ruthless enemy determined to keep the countryside in darkness.
---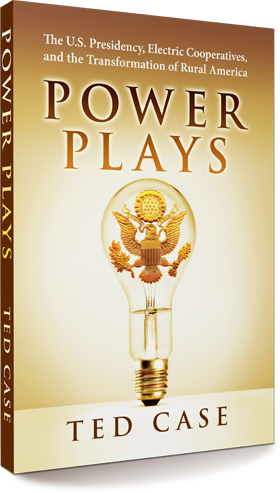 Power Plays
The U.S. Presidency, Electric Cooperatives, and the Transformation of Rural America

In the 1930s, only one farm in ten had electricity before President Franklin D. Roosevelt created the Rural Electrification Administration to bring rural America out of the darkness. FDR's partners were the nation's electric cooperatives. From humble beginnings, electric co-ops developed into one of the most formidable lobbying organizations in the United States.
Power Plays explores the defining moments in the relationship between electric co-ops and the U.S. presidency—a history that intersects with some of the most important events of the last seventy-five years: FDR's infamous "purge" of dissident Democrats, the classic 1948 Truman-Dewey presidential campaign, JFK's Cuban Missile Crisis, the Vietnam War, Nixon's Watergate scandal, and the terrorist attacks of September 11, 2001.
Ted Case takes readers inside the White House to give the stories of twelve presidents and the four electric co-op leaders who built the National Rural Electric Cooperative Association into a major force on the American political scene: Clyde Ellis, Robert Partridge, Bob Bergland, and Glenn English.
A fast-paced, behind-the-scenes story about political strength, political survival, and epic legislative battles, Power Plays is an essential read for those interested in the past—and future—of electric co-ops.
Read Sample PDF Order Power Plays
Save
Save